If imitation is the sincerest form of flattery then Councilwoman Inez Dickens must be smitten. Dickens once owed over $250k in property fines and code violations for buildings she and her family owned in upper Manhattan. And somehow, for some reason, this woman was still elected. And somehow, for some reason, Arel Capital still manages to control homes in which humans reside.
And for last year's election, the people of New York can thank Arel Capital and a little super pac called "Committee for a Fair New York", at least in part, for Inez Dickens' victory.
And the below is what some people call a website….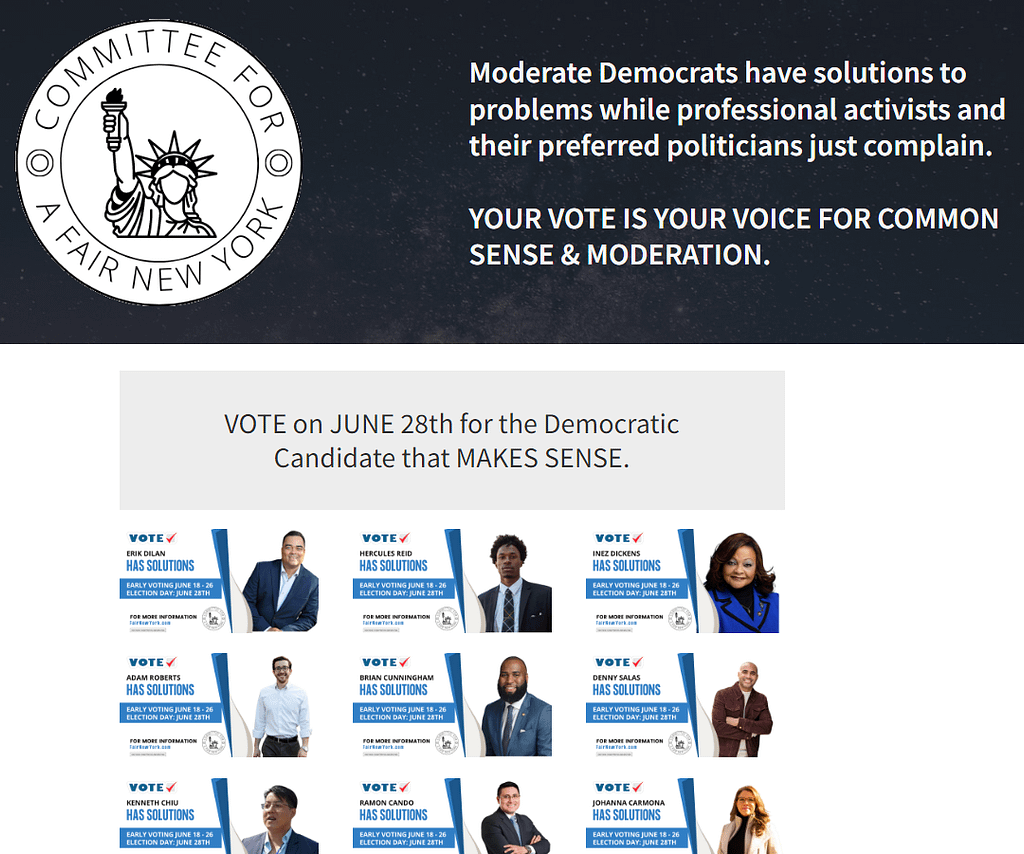 This website now redirects, (www.fairnewyork.com) but it had all the things that a sketchy website longs to have. The copy was bad, the logo was bad, the links at the bottom didn't work. Typical for a quick operation. This was all last summer when Arel's 50k contribution to Fair New York was just a little annoying.
Joe Anuta, reporting for Politico, writes that Arel Capital and their various entities donated $250,000 to Fair New York.

And our problem down here in Texas, is that people living in Arel's properties have no control over the conditions in which they live. Places that are supposed to be a home are not one at all.
No amount of of asking, no amount of complaining whether it to management, the City of Houston, or to anyone at Arel, will get them to better the property. How many sick children does it take sick for them to do something about the toxic mold and the German Cockroaches, that not only carry disease, but can give asthma to children? How many fires must burn? People are depressed living there.
And here is a quick film I made if TLDR.
According to the Post's story by ML Nestle, Dickens' properties had violations for mold, fire damage, faulty lighting and electrical outlets and unlicensed construction work.
Hey, that's sounds familiar. No wonder Arel and Inez are buds. They have so much in common.
AREL CAPITAL v INEZ DICKENS
(in a who's who for more property code violations)
Arel: Fire Damage? ✅
This was in March 2022 at the place I used to live, Heights 2121, owned by Arel Capital.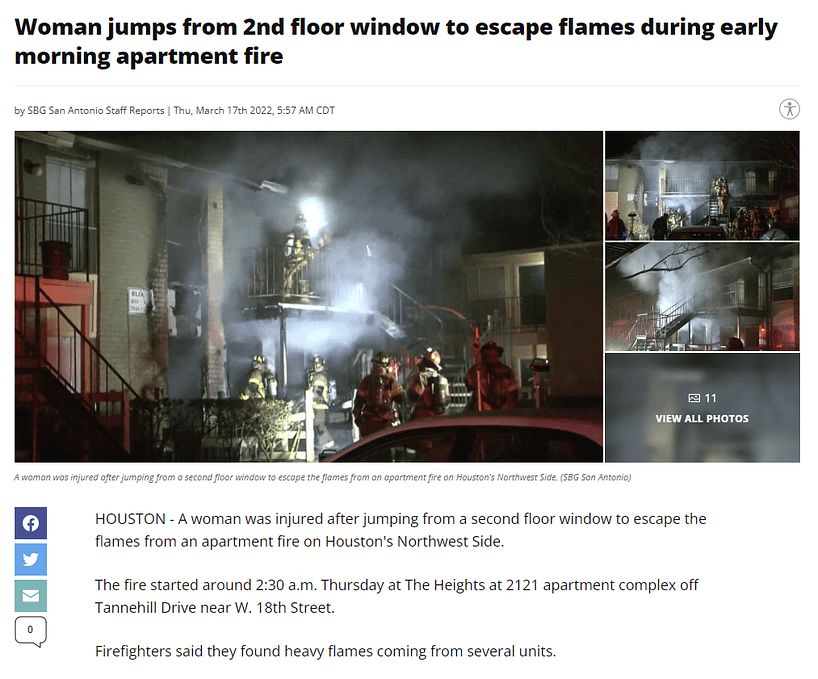 RPM Living, the property management company hired by Arel, put at least one displaced tenant in one of the many empty apartments. How nice right? You'd think so, until that man asks his neighbor,
"Hey, do you know why there are a lot of roaches in here?"

Man who just lost everything in a fire asking his neighbor about the German Cockroach infestation
Imagine losing all your belongings. Then being moved to an apartment with bugs that can make you sick. Then you have to toss the clothes on your back as well anything the Red Cross gave you.
Heights 2121 is no stranger to fires.
🔥 UPDATE 🔥
The Heights 2121, now part of Texas Essential Housing (their website is similar to the website for "A Fair New York." Try clicking the links at the bottom. C'mon Adam, you guys can afford to fix this. I'll even do it for free), hired a company to put solar screens on windows around May 15, 2023. Apparently it looked good from the outside. Which is the only time they make improvements. Forget about the awful conditions of the inside of the apartments. No one can see them and it's not like people actually live in there, right? Right. Wait, what?
So they are putting these solar screens on and leaving the original screens on. And they are having them installed outside of the windows and they are BOLTED down. BOLTED shut. Hello? 🚒 You just had a whole building burn just over a year ago and now you actually want to create more fire hazards? Luckily the Fire Marshall showed up and told them to cease installations immediately.
I wrote an email to inform my best friend, Adam Harden, formerly of Locke Lord, and currently the agent for Texas Essential Housing, now with his very own law firm. See the photo link and feel free email him and ask him wtf they are doing. And Sorry Adam. No matter how much gel you put in your hair you will never be Patrick Bateman.
Adam, how come you don't respond to my emails anymore?

Me
A "productive meeting" for a tax cut of at least $500k sounds about right, sure.
Back to our Who's Who.

Mold? ✅
These are from 2022.
OK, I'm not a mold expert or anything. But………
Arel Capital's Habitability Inspection done by the City of Houston for The Heights at 2121 noted the following life safety issues.
(Sorry Inez, I think we have you beat)
The point off all this is, is we would like to know why Arel Capital spent $250k on a Super Pac when their buildings look like this. These are all photos from 2021 and mostly 2022. The same time that Arel was funding Committee for a Fair New York.
I mean I know why. Because they want to gain an advantage with NYC Politicians and because they do not care about tenants or their buildings.
Dear Richard, why don't you want your residents to be able to go swimming?
Dear Richard, why won't you ever fix the gates so that your residents can have safe parking lots?
Dear Richard, why won't you fix the mailboxes so that residents can get their mail and so that they don't pose dangerous conditions?
Dear Richard, would you live here? Would Inez live here?
Dear Richard, why did the Houston Inspectors have to go back more than four times over the course of a year to get these dangerous conditions fixed?
Stay tuned and feel free to write me or leave comments in the box below.
---
PS. Let's end this mess with something beautiful. I dedicate this post to Dickens' worst enemy, AOC's dress at the Met Gala that said "Tax the Rich".