Sometimes, once the dust has settles a bit, you just have to force yourself to laugh a little. Or make a video about that time opposing counsel called you and threw a temper tantrum. Thank you Bob Bone of OMB TX Law for making my experience in "Justice" Court one I'll never forget.
*Disclaimer* Since my attorney disappeared in July I had no idea what I was doing since the idea of justice court being informal is apparently a fallacy. Which kind of makes all of this funnier is a twisted way.
This 54 second documentary arises from a few days in
October of 2022. Enjoy.
BREAKING: BOB BONE OF OMB LAW HAS THE POWER
TO SEND YOU TO HEAVEN
I had just secured my second Discovery hearing for the date of October 17, 2022 in Precinct 1, Place 2 of Harris County, when Patronella was still on the bench. At the first hearing, opposing counsel and his client, Arel Capital, decided that they needed more time to produce one document that I had been requesting for nine months under the authority of my lease. Bob made no objection to my Discovery request, so I was surprised annoyed by his resistance at the Hearing. This was my first time ever in Court though. First time talking to a judge.
Sometimes I forget what this case is even about. It started in an apartment I moved into owned by Arel Capital called The Heights at 2121 (do not move there). This apartment was not safe to live in due to the conditions of the building. Many of my neighbors had the same issues. I'd never had any problems with landlords before. Problems with apartments, yes. But the owner and I would always work it out together, because we both wanted the same thing. Because we aren't shitheads.
Here's my landlord the same month I moved in to the apartment from hell: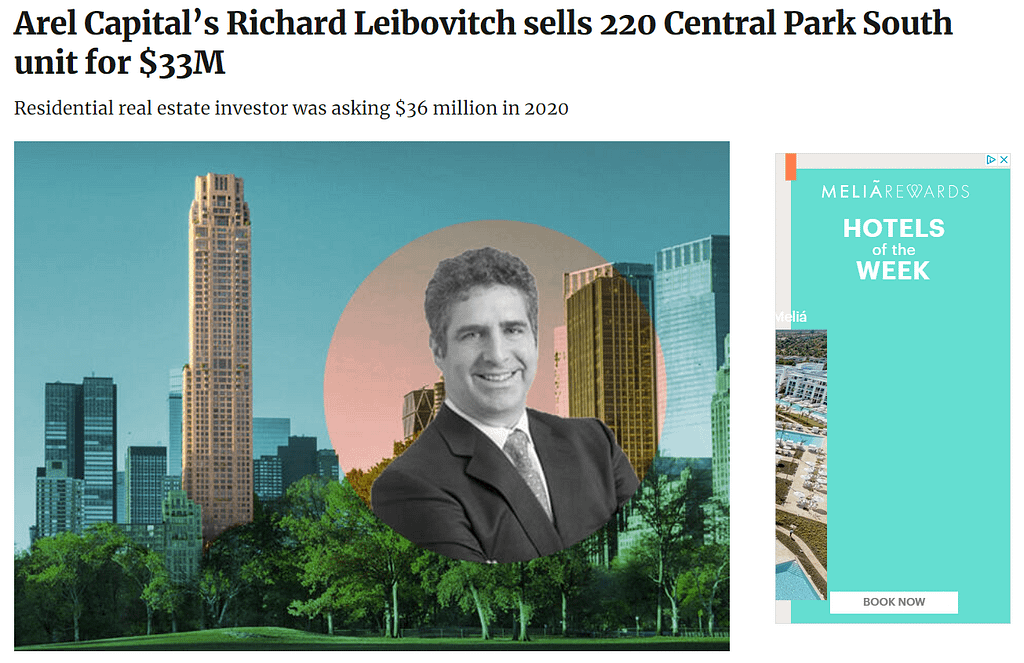 What a guy. Talk about a flip. I invited Richard* to come to a pool party at the apartments he owns but he probably missed the LinkedIn notification or something. Ah well, the summer is young and I can always invite him like 96 more times.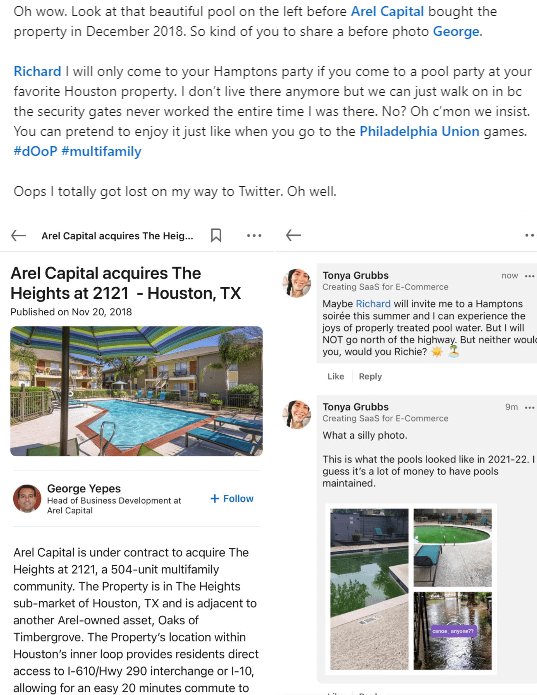 *Richard is the minority owner of the Philadelphia Union.
Anyway, where was I? OH right. Court stuff. So I am gearing up for my 2nd Discovery Hearing to get this stupid pest report that Arel and their attorney Bob tried to cover up. And they really, really don't want me to have this pest report.
I knew the day would come, and it did. On October 7 2022, Bob Bone of OMB Texas Law and Arel Capital file their Motion for Summary Disposition. And can you guess what day the Notice of Hearing said? That's right, MY D-DAY. They set their motion for Summary Disposition for the same day as my second, long awaited, Discovery Hearing Day of October 17, 2022. But what Bob did not anticipate was me anticipating was that Arel's Motion for Summary Disposition failed to satisfy:
Rule 503.2 – Summary Disposition, Tex. R. Civ. P. 503.2 ("(c)Hearing. The court must not consider a motion for summary disposition until it has been on file for at least 14 days.

Texas Rules of Civil Procedure
I filed my response with the court reminding them that the Defendant's Motion for Summary Disposition could not be scheduled until, at the earliest, October 20, 2022. If Bob wouldn't have messed up and would have scheduled this on time (despite the fact that their Motion was um, frivolous) it would be one thing. But he didn't.
So what does Bob Bone do? He decides to email the court. Yeah. On October 12 he emails to ask for a continuance. How thoughtful of him to copy me:
Bob Bone here, with O'Conor, Mason & Bone, PC. I am counsel for the Defendant ….

This matter has a hearing set for next Monday, October 17, 2022 at 10 AM. Before this Honorable Court are two motions: the Plaintiff's motion for discovery and the Defendant's TRCP 503 Motion for Summary Disposition.

… it turns out that I am going to be out of town in College Station, Texas that day with my wife and son touring Texas A&M University.

my gmail, October 12, 13:55
There are a few things wrong with this.
Bob never conferred with me prior to requesting this continuance
Bob claims there are two Motions before the Court on October 17. (Lie). There was a hearing and the only hearing this case had was for my Discovery. That they evaded. Twice.
In what world is it ok to request a continuance for a Discovery Hearing you've already pushed back?
That Arel's and Bob's continuance was granted is not the point, not in this story today. The point is that they pursued a Continuance in bad faith and robbed me of a day which I needed for which I had followed procedure.
It does not take a lot of thought to see what's going on here.
Nevertheless, Bob emailed again on October 14th. This time he sent an email directly to Stephanie Cochran, a docket clerk.
His Continuance was granted within 2 hours. The Friday before my second discovery hearing.
It was at this point that I realized that this was probably all pointless because of that little thing called corruption. Did I mention that Bob's friend Stephanie no longer works at the Court after I filed documentation that showed her making statements and decisions on behalf of the Judge that benefitted Bob and his client, Arel Capital? These motions were never addressed.
I had to email Bob to congratulate him on becoming
an Aggie since his bio on his firm's site says that he is obsessed with UT.
I have to admit I am surprised that you are allowing your child to consider A&M, since you are like, the biggest UT fan around. Do you think A&M would frown on rescheduling more than the Judge would frown on rescheduling a hearing? I'm going to ask the court. I checked the A&M schedule and
there are plenty of slots available, even on Monday, the day that you take your big trip to become an Aggie.

Oh, and could you please ask your client who holds the note re 2121?

Gig 'em,

TG

my gmail, October 15, 2022
This upset Bob and he "warned" me as he often did and
said that he would call the cops on me. Essentially.
… given some of your statements in this email, I feel compelled to respond to this email immediately. Just because I cited a personal reasons as a basis for requesting the continuance (which was granted) does not in any fashion open the door for you to send me an email commenting about either my family or my personal life. I am going to give you this one warning: if you send me any further emails like this, or anything that I interpret as an unwanted intrusion into my personal life, I'm going to not only bring it to the attention of the court, I'm going to consider bringing it to the attention of the appropriate law enforcement authorities. You have been warned – don't ever send an email like this to me again, Not in the context of anything involving this litigation or in any other circumstance.

my gmail, October 15, 2022, 19:00
Of course I gave him the non-emergency number to the Police station and even called them in advance to let them know he would be calling (he didn't call, ever).
Do y'all think that Bob low key jams Bone Thugs n Harmony?
You better count your money
You better count your money (Ghetto Cowboy)

All of a sudden, I heard somebody rumble in the bushes, stopped my horse,
Whoa Nelly! Who in the bushes, you better speak up,
Or I'm-a let my shotgun's song sing out sanction you to the high heavens. 🎵

Move out, giddy up giddy up giddy up
Move out, giddy up giddy up giddy up