This is a story about corruption, mostly within the community of Harris County Democrats, most of whom are elected officials. And how they ignore clear injustice in the face of corruption in order to protect their own interests. The façade that so many have been blinded by, the duties for which they took an oath, and their failure to take responsibility for their actions. They have fooled the ones that have supported them. And most importantly, corruption hurts everyone, whether they are involved in a matter before the court, or if they have never entered a courtroom in their life.
And, there is a great song by Randy Travis which is the title of this post. I never knew how much this song would mean to me. If you have seen my post about opposing counsel, Bob Bone, and his magical powers to sanction people to the High Heavens, you will no doubt appreciate how special this song is.
Judge Duble ruled on the matter in this case. The same matter on which he advised me.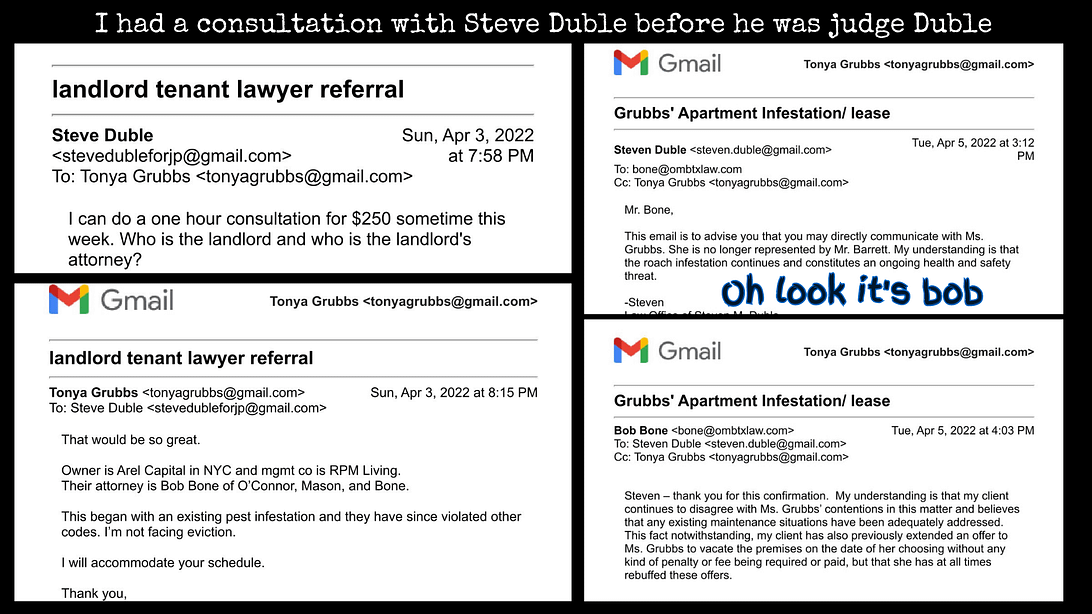 I advise you to move out ASAP. Good luck.

Steve Duble
Now if you're like me and you skipped school the day that they taught us about the Texas Constitution, let's do a little recap. There are three things, and only three things, that can cause a judge to be Constitutionally disqualified:
1. No judge shall sit in any case wherein the judge may be interested,
2. or where either of the parties may be connected with the judge, either by affinity or consanguinity, within such a degree as may be prescribed by law.
3. or when the judge shall have been counsel in the case.
I didn't know this until Judge Duble recused himself in another case I had in his court. One where recusal wasn't even necessary (I don't think so at least, these rules are so cOnFuSiNg).
But there is one thing that, in my opinion, may be certain:
Bob Bone of O'Connor, Mason, & Bone 🦴 never skipped a day of school in his entire life.
Why did Bob 🦴 not move for recusal? The biggest little menace of Justice Court who makes his money off evictions, and a judge whose campaign ran entirely on eviction reform:
(1) Both knew that the other knew that Steve Duble had been a lawyer to me for the case
(2) My lawyer who was allowed to abandon the trial without a court order knew because Steve Duble emailed him
(3) Bob lectured me one time (ok many times) and said that I must address him as Mr. Bone🦴 or he would not respond to me.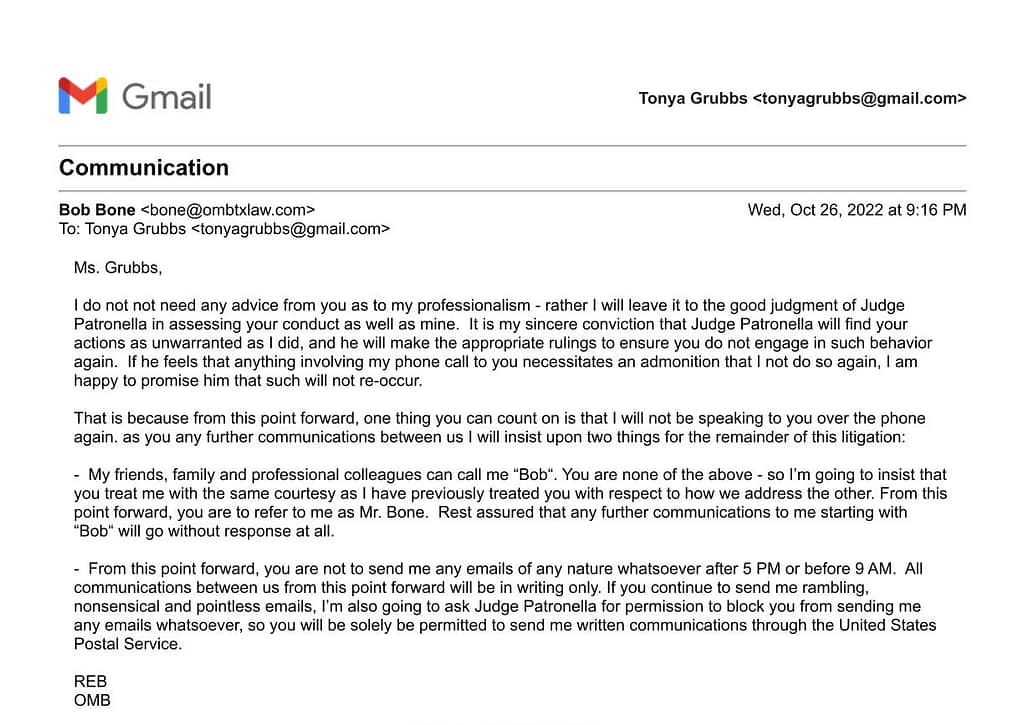 I have not read this since the day in October when Bob 🦴 revealed that he can send people to heaven. The best part of this email is:
One thing you can count on is that I will not be speaking to you over the phone again.

– Bob Bone acting as if he wasn't the one that called ME and threw a temper tantrum
Looks like Bob and Steve were buddies already, prior to that day Steve emailed Bob for me. Unless Steve has everyone saved in his gmail contacts by only their last name. I mean the lawyer community in this city is one where everyone often knows each other. But whatever. Do we think that Steve calls Bob, "Bone" and that Bob gets upset and asks him to call him Bob? And I am down in the ranks of having to say "Mister Bone"… well I wouldn't have it any other way.
☠ 💀☠ 💀☠ 💀☠ 💀☠ 💀☠ 💀☠ 💀☠ 💀☠ 💀☠ 💀☠